Spring is here and perhaps you're feeling the urge to start some cleaning. Getting rid of clutter and staying on top of cleaning chores makes you feel relaxed and comfortable in your home. When it comes to maximizing your home's space, organization is key. Start by purging items (especially in closets and cupboards) that don't get worn or used on a regular basis. By purging and decluttering, you will make the job of cleaning your home much easier.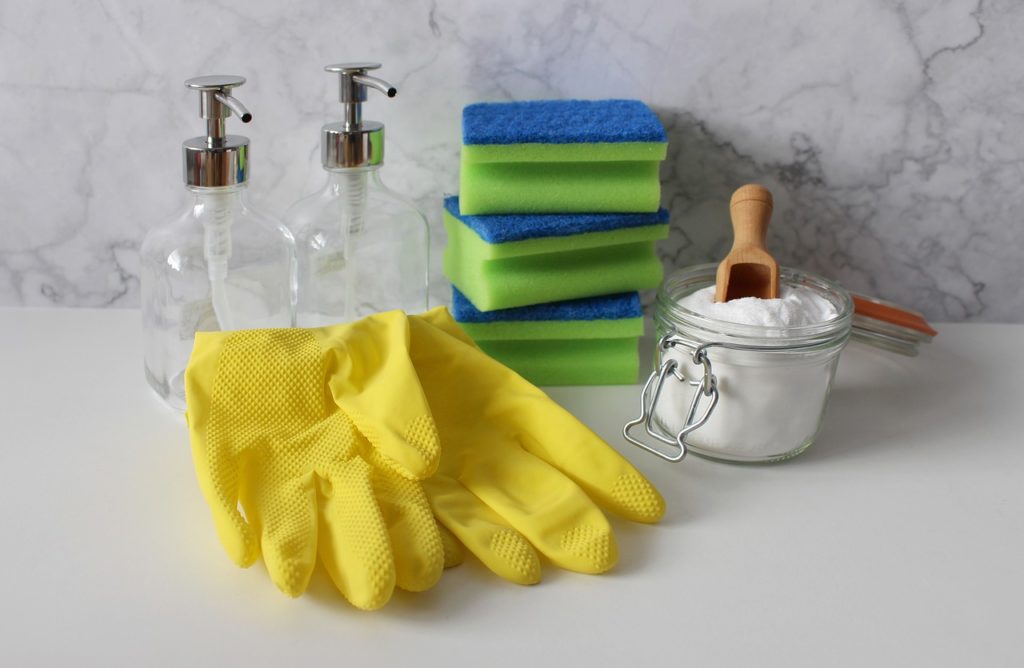 Some cleaning hacks include the two-minute rule and working clockwise.
If a chore on your to-do list takes less than two minutes to complete, then do it right away. You'll be left with peace of mind and satisfaction when you can easily cross it off your cleaning checklist. Cleaning experts agree that working clockwise is the key to cleaning any room. Start in one corner of the room and work your way around clockwise to be sure not to miss any surfaces. Take it a step further and load a laundry basket with your cleaning supplies (think cleaning wipes, dust rag, window cleaner, etc.) and take it around the room with you. That way, you can easily place items that don't belong in that room in the basket to put away in their correct spot later. Boom! These tips will save you time and hassle when it comes to household chores.
Create a plan.
When creating your house cleaning "plan of attack," consider what is best for you and your schedule: one LONG weekend day filled with all of your weekly cleaning chores or small chunks of time devoted to cleaning one area of your home at a time per weekday. By establishing a cleaning schedule, you'll be sure to not forget any important cleaning tasks and make it manageable for you to complete successfully. Figure out what "clean enough" looks like for you and go from there. In time, you'll learn which rooms you can use cleaning shortcuts on, skip or only do occasionally.
Thriving at home with a little help from Landis At Home is possible!
Since 2007, Landis at Home has been providing care for people who want to live and thrive in their own home. We employ Registered Nurses to oversee the care of all our clients and also supervise all of our caregivers and team members. Whether you're in need of a little help with weekly household chores or would like assistance with daily tasks, like making your bed and putting dishes away, Landis at Home is here for you. Between our light household chores, housekeeping and Graceful Transitions services, Landis at Home has got you covered.
Light Household Chores – Do performing daily and weekly household chores zap your energy and lessen the enjoyment of living where you choose? If so, invite our team of homemakers to take care of these tasks for you:
Surface dusting
General tidying-up of rooms
Water plants
Emptying trash
Sweeping
Wiping down kitchen surfaces
Putting dishes away
"Company ready" bathroom touch up
Changing of bed linens
Making the bed
Laundry and ironing
Meal preparation
Housekeeping – Whether you need some help cleaning two hours a month or two hours each week, our team members are committed to making your home sparkle and shine. Stay in the home of your choosing longer by taking advantage of our housekeeping service, which can include the following:
Mopping
Polishing furniture
Vacuuming
Deep floor cleaning
Cleaning tubs and toilets
We even have a concierge service available for clients who are transitioning to new accommodations.
Graceful Transitions– Are you need of help to declutter, organize or downsize? If so, this concierge service offered by Landis at Home can help individuals and their families with tasks that can reduce the pressure of moving, downsizing, organizing and other potential stressful times.
Packing & unpacking of belongings
Coordinating a move or transition to a new accommodation
Seasonal needs (i.e., closet changeovers, indoor/outdoor decorations, flowerbed maintenance, etc.)
Decluttering and organization
Cleaning out vacated accommodations
Personal support during moves and transitions
Coordination of housekeeping, repairs and staging
Aging in place recommendations
Contact Landis At Home Today!
Our long-term employees and low turnover rate should make you feel reassured of our consistent and dedicated team happily serving our clients. Our main goal is to provide the care our clients deserve to allow them to thrive in their homes, wherever that may be. Landis at Home serves those 18 years old and over residing in Lancaster County and offers a variety of services, including light household chores and housekeeping.
Don't let dusting and laundry stand in the way of you living in your own home – we are happy to help! Please contact us directly at (717) 509-5800 to see how we can best serve you.