At 92 years old, Dr. Kendrick Eshleman sits on his front porch and effortlessly recalls how he ended up living in Lancaster County, PA. Born in Florida, he used to vacation with family to Lancaster County in the summers.
Surrounded by large sycamore trees on several acres of land, his house was built 250 years ago by his Huguenot ancestors. He recounts the history of each brick, sycamore tree, and the surrounding area.
"This house has only had two families live in it over a period of 250 years, and the second family has been mine for going on eight generations. It has a rich history, both locally and nationally. My family has kept records from over the years of the properties nearby, as well as individuals who lived on the land and one who participated in the Underground Railroad."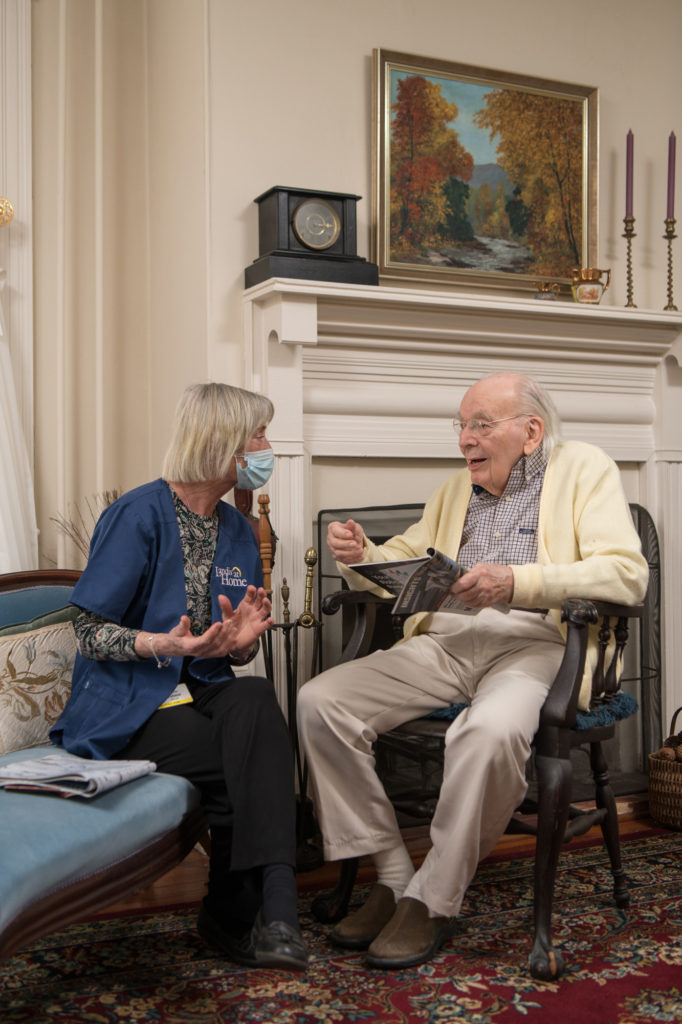 A medical doctor specializing in psychiatry for 43 years, Dr. Eshleman was familiar with the services offered by Landis Communities.
He says, "I had known about Landis Homes since it was built, and began hearing good reports about it. When my wife was in the later stages of cancer, it was suggested that she move there. So, my wife lived at Landis Homes until she passed away in 2014. I was very pleased with the care she received.
After she passed away, I realized I'm so limited in what I can do by myself. I knew I needed some help, but I decided I'd like to stay in my home as long as possible. I like my home. I'm comfortable here. While my daughter is helpful, she lives farther away and can't support me the way that I need, so I couldn't stay here without help from Landis at Home."
Dr. Eshleman likes Landis at Home because the service is reliable and happens within the confines of his home where he's most comfortable.
"Velma, my Landis at Home aide, comes once a week. She helps do laundry, runs errands, gets my groceries, takes me for occasional medical appointments and does all kinds of odds and ends that allow me to stay home."
Velma Magill has been Dr. Eshleman's Landis at Home aide for over four years. With a background in medical training and a former art teacher, as well as an artist herself, Velma connected with Dr. Eshleman immediately because of their shared interests.
Especially during the pandemic, Dr. Eshleman looks forward to Velma's visits.
"I read a lot, I write, and I talk to my family and others on the phone each day. But it is nice to talk to Velma in person when she's here since my visitors have been limited during the pandemic. I realized in the last few months how important it is to have face-to-face contact with friends."
"I knew I needed some help, but I decided I'd like to stay in my home as long as possible. I like my home. I'm comfortable here."