Have daily activities, such as bathing and dressing, simple home tasks, meal preparation and managing medications, become too much for your aging parent to handle independently? If you are concerned about your parent's health and ability to safely accomplish such daily tasks, you're not alone.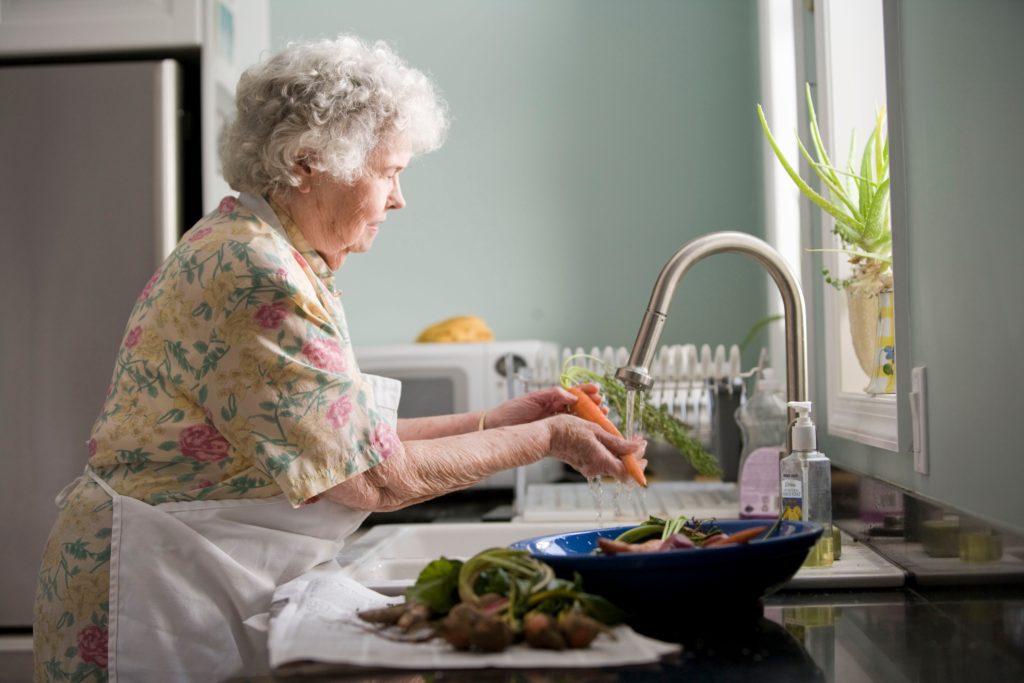 While it may seem overwhelming (and a bit emotional) searching for elderly home care for your loved one, we are here to help you navigate this next phase.
Here at Landis at Home, we know that finding quality home help for the elderly is not a task taken lightly. We only want the very best care for your loved one, as do you.
Whether you're an only child trying to juggle managing your own busy life as well as your aging parents, or you live far away from your loved one, it can be challenging coordinating, managing and caring for someone else's daily well-being. Even if you have no background in determining someone else's healthcare needs or are experiencing family dynamic shifts and differences of opinions, finding proper elderly home care is possible and very doable.
If any of these scenarios match your current situation, there are many options to help you find the best ways to help care for your aging parent or loved one:
Only Child – We get it – your parents did SO much for you growing up and now you want to pay them back by taking care of them as they age.  Making elderly home care decisions with the help of siblings can be daunting, but an even bigger task for an only child.  Establish a support system (whether that be your spouse, close family friend, a faith organization, etc.) and utilize a local aging program for assistance.  When it comes time for a much-needed break, consider our respite care services or other levels of care, such as personal care or assisted living. 
Living Far Away – Even though your parents probably encouraged you as a child and young adult to spread your wings and broaden your horizons, it can tug at your heartstrings when you're not close by to care for your loved one when they're in need. Phone calls and periodic check-ins are nice, but you probably wish you could be there and do more, but you can't. Allow our team of dedicated and loving caretakers to step in and provide individualized home care services on a regular basis.
No Healthcare Background – When you're faced with an aging parent dealing with difficulties performing daily activities, all you want to do is help the people that raised you and did so much for you. As you see your parent losing certain abilities and requiring extra help, you might be concerned that you don't have any medical expertise. Do the next best thing by hiring a trusted home care agency to assess your loved one's current living conditions and needs in order to develop a care plan.

Changing Family Dynamics – While you'll always love your siblings, sometimes their differing opinions and views can make it difficult to make big decisions for your loved ones. Instead of arguing and debating over the best care options, divide and conquer duties based on your individual strengths. When it comes to making big decisions, lean on the advice of trusted experts to help you make informed decisions for your parents.
Feeling Sandwiched – Are you having to compromise your own life to care for and attend to your aging parents' needs? You may be neglecting your own family, work duties and your own self-care. This is not good for anyone – but especially for yourself. Be sure to carve out designated time for you to properly care for yourself, family and job. That might mean handing off some caretaking duties to other family members or a trusted home care agency.
Elderly Home Care Right Here in Lancaster, PA

It's okay to ask for help – that's what we're here for and are trained to do.  Allow us to give you peace of mind by providing highly personal and individualized at home care right in the convenience of your parent's home.  From personal care assistance to memory support services, Landis at Home is ready to help your loved one in this challenging season of their life.  We encourage you to check out a complete list of our services.
Allow us to help you eliminate potential hazards in the home environment and make recommendations to keep your loved one safe and well cared for by scheduling a home safety assessment with our Occupational Therapist.
The professionals at Landis at Home are here to help you navigate these challenging times and provide the best support for your loved ones. To help put you and your loved ones' minds at ease, contact us at (717) 509-5800 to set up a free in-home assessment to assist with home care needs or to set up a home safety assessment.