Unfortunately, for many, the past year has led to feelings of loneliness and isolation. Because of this, it's especially important now more than ever to check in with our older loved ones. If we've learned anything over this past year, it's that it's easy to stay in touch without physically seeing each other. It just takes a little bit of extra effort.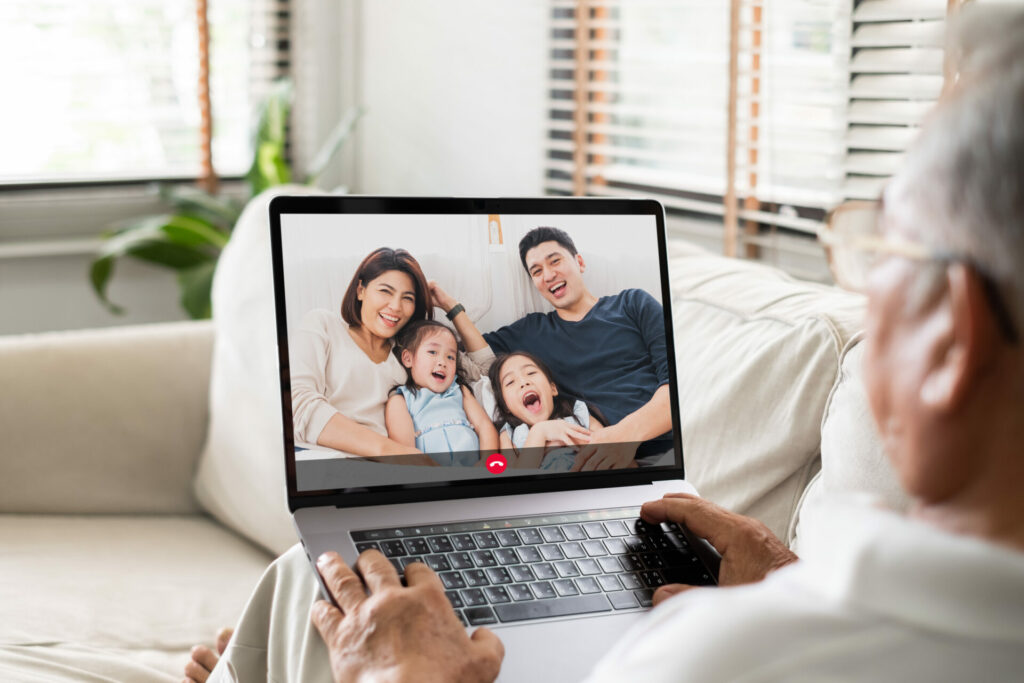 Keep reading to learn how you can cheer up the seniors in your life by communicating with them in a variety of ways.
Write Letters
Everyone loves a good pen pal! Bring back an old-fashioned way of communicating and write letters back and forth to one another. While technology has given us multiple ways of getting in touch quickly, it doesn't quite compare to the sentimental value of a handwritten letter.. Writing a letter to the older folks in your life not only shows them you want to keep in touch, but also that you took the extra time and effort rather than sending a quick text or email.
Plan Weekly Phone Calls
In today's world, it's easy to feel constantly busy and like you're always on the go. That being said, it tends to be a bit more difficult to keep in touch with those you don't see on a daily basis. Try scheduling a weekly phone call with your loved ones. Knowing you carved some time out of your busy schedule to catch up with them weekly will make them feel much more special than a random monthly phone call would!
Virtual Calls
Zoom and Skype have become the ultimate forms of communication over the past year or so. Not being able to physically see one another has been hard on many people, especially older family members who live on their own. While chatting on the phone is a great way to catch up, being able to actually see one another on a call has the potential to decrease feelings of loneliness. Video chatting is also more accessible for some and gives you the chance to create a more special environment, such as eating meals together over a call. It's not the same as eating at a table together, but it's a pretty close alternative!
Put Together a Care Package
Nothing says "thinking of you" quite like a care package put together of items they love. There's no limit to what the gift could consist of, such as their favorite food, candle, book, lotion, etc. Creating a photo book or collage of your memories over the years together is another special way to go the extra mile and show them that you care, even if you're not able to be with them as often as you'd like.
Try Out the Together App
The Together app is the perfect way for children to interact with their grandparents from a distance (whether it's long distance or social distancing). It has both playful and educational activities for them to partake in together, such as interactive games or reading a bedtime story. Even if they can't physically be with one another, they can still create these special moments and memories together. Learn more at https://www.togethervideoapp.com/
Stop by for a Window Visit
Due to certain circumstances such as illness, you might not be able to spend time with each other in close proximity. Window visits are the perfect solution to this scenario, because they allow you to enjoy one another's presence while also keeping everyone safe.
Enlist a Caregivers Help
Depending on your every day, you might not be able to visit the special seniors in your life as much as you'd like. As they get older, they might need more assistance than you're capable of, and that's okay! If this is a situation you've come across, it might be time to look into assistance from an at home caregiver.
Whether you're in need of an elderly caregiver or support in a different facet of life, Landis at Home offers a variety of services for your loved ones, including personal care, household chores, companionship and more.
Located in Lancaster, PA, we have a number of professionals ready to help with all of your home care needs. Contact us at (717) 509-5800 to begin your journey today!