With the holiday season behind us and the new year before us, it's a great time to think about finances and spending habits. After all, many people probably did a little too much spending during the holidays, so what better way to embrace the new year than creating some financial goals. Don't get us wrong, while many of us could use some help, one of the most prominent financial conversations you need to have is the one with your parents.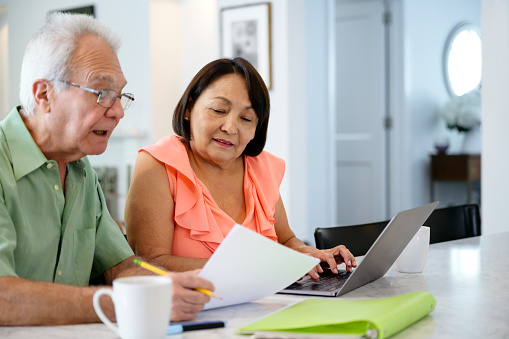 The idea of discussing finances with your aging parents can seem like a daunting task, however, this conversation doesn't have to be uncomfortable or unpleasant. It's one of many inevitable conversations, so keep reading to learn some tips on some of the best ways to handle it.
Start Early
Having these kinds of conversations sooner rather than later is one of the best ways to approach the topic. The more you bring it up and make the conversation a familiar topic, the easier it will be to discuss over time. More often than not, people wait to have these conversations until they are essential, such as after an emergency happens. Discussing finances is already a tough topic for some, and having that conversation during a family emergency or crisis doesn't make it any easier.
Did you know? In their book, Necessary Conversations, family counselors Gerald and Marlene Kaufman also suggest having these conversations before a crisis occurs.
Find Out What's Important to Them
One of the main things to consider is your parents' point of view and how they feel. Discussing savings, estate plans and healthcare can be a heavy burden. The best way to approach these conversations is by making sure your parents are not only comfortable, but getting the support they need. Try asking them what topics they want to discuss first, or if they have a preference of how they'd like to develop these plans. Making sure they feel heard will go a long way.
Use an Important Life Event
If you're not sure how to bring up their finances, take a look at what's happening around your family and see if any of those situations can segue into the conversation. For example, maybe your parents just became grandparents or another grandchild was welcomed into the family. This is obviously a huge life change that includes many important decisions that need to be made. It will seem pretty natural if you bring up financial planning around a time like this.
Take Tasks Off Their Hands
First and foremost, it's a nice gesture in general if you offer to do something for your parents, so they have more time to do what they enjoy, but by offering to help with tasks, such as budgeting, organizing bills, tax preparation and so on, you can slowly integrate yourself in their financial world. This helps you gain insight into their finances and allows them to share more with you, rather than diving head first into a financial conversation with them out of the blue.
However, if you're unable to assist with some of these tasks, Landis at Home is here to help!
Our Senior Servant Bookkeeping Concierge Service offers assistance with bank account management, bill payment, financial reporting, budgeting, reviewing paperwork, tax reporting, organizing records and more.
Be Direct
If easing your way into these conversations doesn't work for you, there's no problem with being upfront either. It all depends on your relationship and what would make everyone most comfortable. No need to beat around the bush – just simply let them know that you'd like to learn more about their financial situation and if there are ways that you could help. That being said, there's no need to dive into every aspect of these conversations all at once. You should move at whatever pace works best for you and your family.
Consider Current Events
There's no time like the present! It's completely natural to talk about current events and the state of the world with your loved ones. More often than not, financial topics are pretty newsworthy. Next time it comes up, take that as a sign to start the conversation.
Be Calm and Respectful
Regardless of how you choose to approach this situation, it's incredibly important to remember that at the end of the day, they're still your parents. You'll want to remain respectful and consider everyone's boundaries and comfort zones, as finances can sometimes be a touchy subject. It should be a conversation between both of you, so it's best to talk with them and not at them. It's also important to remember that you'll be more successful if everyone remains calm and civil with one another.
Landis at Home offers a variety of in-home services for seniors, so you can have peace of mind that your loved ones' important responsibilities are taken care of by a professional!
From Personal Care and Companionship to Concierge Services, we make sure that the seniors in your life have all the home help they need.
Reach out today so we can discuss what services work best for you!