Game nights are the perfect staple for a relaxing evening with family or friends. But did you know that bonding time isn't the only thing your loved ones might be able to take away from the night?
Memory games and other cognitive activities can protect brain function and potentially benefit those who experience memory loss issues. Combining cognitive activities and social interaction is not only physically good for the brain, but for emotional health as well! These things can have a positive impact on our mental health and well-being.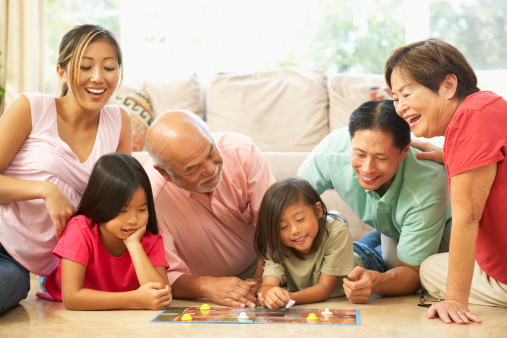 So, what are some of the best game night ideas when it comes to spending time with your loved ones and benefiting their health at the same time? Keep reading to find out!
Taboo
Objective: Get your team to guess the word you picked without using the word itself OR the "taboo" words to describe it. At the end of the game, the team with the most correct answers wins!
How to Play: Break into teams of two or more.One player picks a card and tries to describe it without using the "taboo" words mentioned previously. Their team member must guess the word before the time runs out.
Example: Can you describe "Halloween" without the words costume, candy, trick or treat, etc.?
Why it's Beneficial: A game of Taboo challenges your loved ones to brainstorm quickly use their critical thinking skills.
Mad Gab
Objective: Solve the Mad Gab puzzle, which is a group of unrelated words that sound like common or familiar phrases when read out loud.
How to Play: Break into teams of two or more. Each team has three minutes per round to sound out or guess as many puzzles as they can. The faster the team solves the puzzles, the more points that team will score.
Example: Wander Womb Hen "translates" to Wonder Woman.
Why it's Beneficial: Mad Gab tests the brain's ability to process words and sounds using phonetics – and it's loads of fun, too!
Apples to Apples
Objective: Get the judge to pick the card you played that round. The win goes to whoever has the most green cards at the end.
How to Play: Every round, the judge will flip over the next green card in the deck. Once everyone has submitted a red card to match it, the judge will go through them and pick one as the winner. Everyone must have seven red cards at all times. Whoever played the winning card collects the green card and keeps it. At the end of the game, the individual with the most green cards wins!
Note: Red cards are typically nouns, while green cards are adjectives or descriptions.
Why it's Beneficial: It'll make them laugh! Apples to Apples also encourages participants to draw connections between red and green cards in unique and clever ways.
Tried and True Activities
At the end of the day, you can never go wrong with a game of cards. From Go Fish and Old Maid to Slapjack and Rummy, card games are generational and can be enjoyed at all ages. Playing a card game with your grandparents or older parents creates a new bonding experience while also allowing them to revisit old memories.
Much like the games mentioned previously, there can also be a lot of benefits from sitting down and solving a crossword, puzzle, or riddle together. Puzzles are an excellent way to exercise our minds, keep our mental function keen, and help our brains work better for longer. They not only challenge the mind, but require teamwork from both you and your loved ones.
Lastly, if games aren't your cup of tea, why not try an arts and crafts project together? It's an opportunity to learn something new about one another while also focusing on an individual activity that you both can enjoy.
If you find that you can't make game nights often or if you're missing out on other opportunities in their lives, it might be time to look into home caregiver services to make sure you don't miss anything crucial. Landis at Home's companion care team members are a great way to make sure your loved ones still experience as much social interaction as they can while also taking into consideration their needs and interests.
Looking for some of the best in-home care providers in Lancaster, PA? You've come to the right place! Landis at Home offers a number of different services to ensure we fit the individualized needs of your loved ones.
Contact us today to see how we can best assist you!