Becoming a caregiver means taking on significant responsibilities in your daily life—both expected and unexpected. So why is it that so many caregivers refuse to ask for help, even when they need it?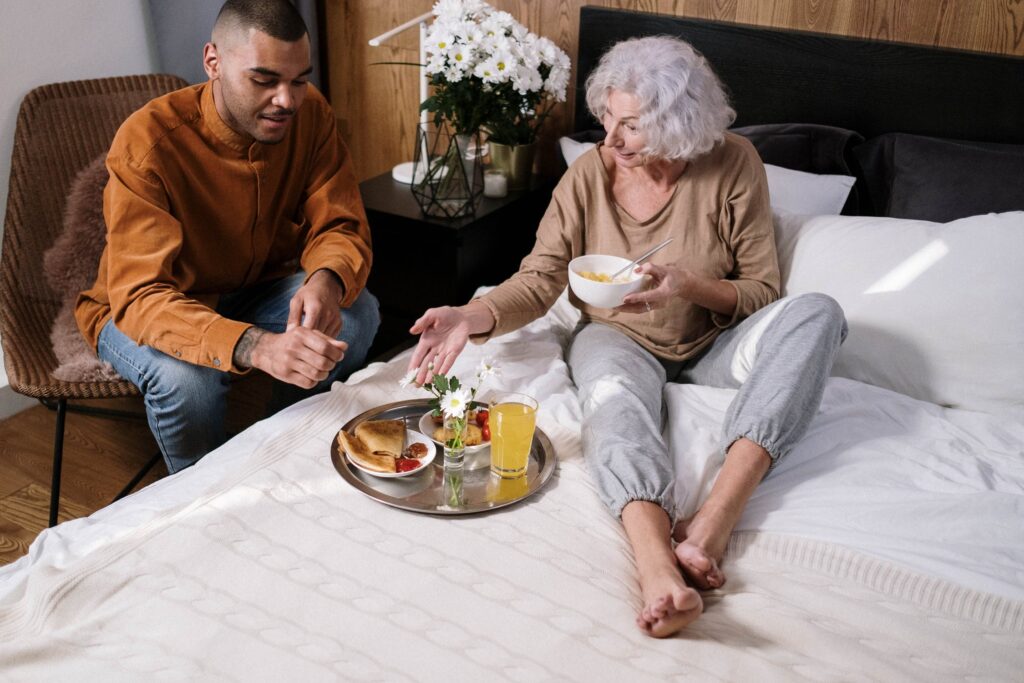 Keep reading to learn why caregivers avoid asking for help and how Landis at Home can provide the assistance you need (especially because you deserve a break!).
Sense of Protection
More often than not, caregivers are usually children who have taken on the responsibility of caring for their parents. When you take on this role, your help may improve their lives in more ways than one.
However, it's a common understanding that they won't become completely healthy or independent again. That said, caregivers are hesitant to ask other people to help because they want someone who cares about their loved ones as they do. It is a form of protectiveness that is incredibly hard to overcome, especially if you're caring for the parents who cared for you throughout your life.
Feelings of Guilt
Many caregivers feel a sense of guilt from time to time because they aren't confident in their ability to meet their loved one's needs. It's easy to feel this way because they are invested in making sure the one they're caring for is as healthy and happy as can be.
There is no reason to feel guilty if you've taken over the role of caregiver! You are doing the best you can, and that is all that matters. However, these thoughts might creep in occasionally, no matter how unrealistic or undeserved they are. It's crucial to keep in mind that they're not true.
Financial Hesitation
One of the main reasons family members take on the role of caregiver stems from the cost of quality, long-term care. Depending on the program, Medicare or Medicaid might be accepted, but many have found that assisted living facilities do not fit into their budget, no matter how helpful utilizing one would be.
They might also be hesitant because they worry about receiving not-so-quality help, which stems from the protectiveness we mentioned earlier. They might feel it's not worth it to spend money and receive lackluster service when they can do the job themselves.
Landis at Home provides quality home care services and support for your loved ones in Lancaster, PA. These services range from respite, companionship, memory support, and more. Taking care of your loved ones, especially as a sole caregiver, can be a lot of work. And that's why we're here to help!
Respite Services
We know how much work goes into being a caregiver. That said, you need to take a well-deserved break from time to time! We provide respite care, and our providers will be there for you—no matter how long you're looking for. It can be for a couple hours while you're running errands or 24/7 care if you're on vacation and need someone to help out around the clock.
Whether you're the caregiver yourself or want to ensure that a caregiver you know is getting the rest they deserve, contact us to learn how we can help.
Companionship
Many people prefer to stay in their home as they age for a multitude of reasons—it's familiar, they've made memories there, etc. As your loved ones get older, however, they might not be able to get out of the house and do the same things they're used to.
This lack of socialization can lead to feelings of isolation, which affects their physical, emotional, and mental wellness. By partaking in our companionship services, we make sure that your loved ones get involved in social opportunities around them. Our team members aim to enrich the lives of their companions and provide them with opportunities that are individualized for their needs and interests. 
Memory Support
Being a caregiver is challenging work, especially if you're taking care of a loved one that suffers from memory loss. Different types of home care require different types of treatment, and each is unique to the individual. Landis at Home has caregivers who participate in dementia care training, which is helpful when providing assistance to your loved one ensuring they are comfortable and cared for. 
As a caregiver, it's important not to be afraid or hesitant when asking for help. Landis at Home is here to listen and provide individualized at-home help wherever and whenever we're needed! Learn more about the work we do here.