Do you ever feel overwhelmed when it comes to cleaning your home? Have you wondered how often you should clean certain areas of your home? Let us help you break down chores that should be done on a daily, weekly and monthly basis. In addition, we will help you delegate what should be cleaned throughout certain points of the year.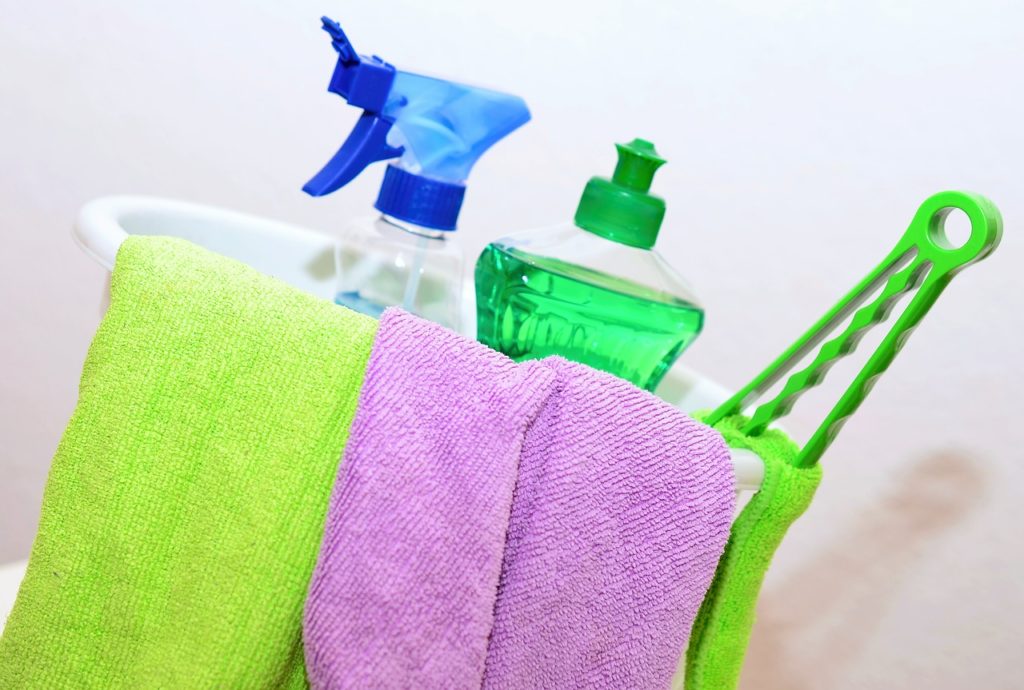 Daily Cleaning – By keeping up with these daily tasks, you will actually be doing yourself a favor in the long run. If able, delegate certain people in your home to complete these daily chores at a set time of day, so that it becomes a habit. Before you know it, these daily tasks will become routine!

Dirty dishes
Wipe down kitchen counters and table
Sweep kitchen floors
Wipe down bathroom surfaces
Squeegee shower walls
Weekly Cleaning – These weekly chores are best to be done on certain days of the week. If you try to cram them all into one day, you will most likely get overwhelmed and rush through the work. For instance, make Mondays your laundry day, Tuesdays your vacuuming days, etc. By breaking chores down into chunks, it makes it more manageable and efficient.

Mop kitchen and bathroom floors
Clean mirrors
Sweep/Vacuum floors
Laundry (including bedding)
Dust furniture
Wipe down kitchen appliances
Clean microwave
Monthly Cleaning – Through keeping up with your daily and weekly cleaning tasks, your bigger monthly jobs should not be too much to tackle. By cleaning your household appliances on a monthly basis, you will help to keep them in top-notch shape and ensure their effectiveness. As always, it is best to not save all of these bigger jobs for one day. Perhaps you want to divvy them out throughout the month.

Dust and clean light fixtures & ceiling fans
Clean dishwasher, laundry machine and vacuum
Vacuum woodwork and vents
Dust blinds
Now that you have your daily, weekly and monthly cleaning checklists in order, let us help you focus your attention on bigger cleaning jobs that should be done about twice a year.
As spring time quickly approaches, you may look at this as your Spring-Cleaning Checklist:

Clean drapes and curtains
Deep clean your carpet and area rugs
Wash pillows and comforters
Freshen drains and garbage disposals
Deep clean your oven
Wash and/or replace your shower curtain liner
Vacuum furniture and mattress
Clean patio surfaces and furniture
Wash your windows and screens
Clear out gutters
Organize and clean out inside of fridge/freezer
If this Spring-Cleaning Checklist looks a little daunting to you, or you could use some assistance with day-to-day cleaning tasks, Landis at Home offers home help for seniors.  Based out of Lancaster, PA, Landis at Home offers a variety of in-home services for seniors, ranging from light household chores to full housekeeping. 
Here are just some of the cleaning services we offer our clients:
Light Household Chores

Dusting
Watering plants
Emptying trash
Tidying up of rooms
Changing bedding
Organizing drawers and filing books
Laundry and ironing
Meal preparation
Wiping down of kitchen and bathroom surfaces
Housekeeping

Mopping of floors
Vacuuming
Polishing furniture
Deep cleaning of bathrooms and kitchen
Hard to reach areas of your home
Whether you need assistance once a year or on a more regular basis, our team of dedicated and trained professionals are happy to assist you. We can individualize our cleaning services to your direct needs. Call Landis at Home today at (717) 509-5800 or contact us via our website to inquire about our housekeeping assistance for seniors in Lancaster PA.