Blessing the Place That Cared for Our Mothers
Calvin and Janet High share a common connection to Landis Homes – both of their mothers lived here. Though similar in that they were very happy residents, Calvin and Janet High's mothers were quite different. Janet's mother enjoyed showing up an hour early for dinner and talking with everyone, while Calvin's mother, being more reserved, was quite content to stay in her room and read or visit one-on-one with neighbors.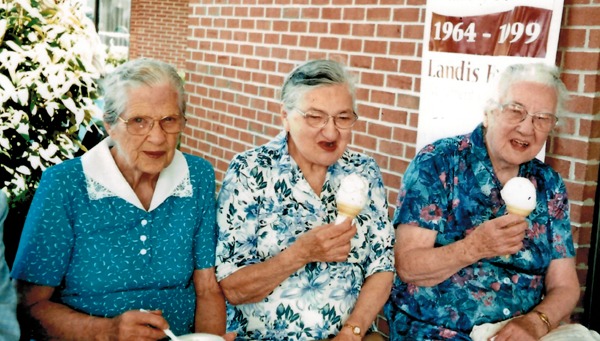 Calvin says, "I like to give to organizations I'm really familiar with, and with Landis Homes I have a family connection." Along with this being home to their mothers, Calvin's father, Sanford High, was one of the founders of Landis Homes. In the early 1960s Sanford traveled to Florida to research retirement communities.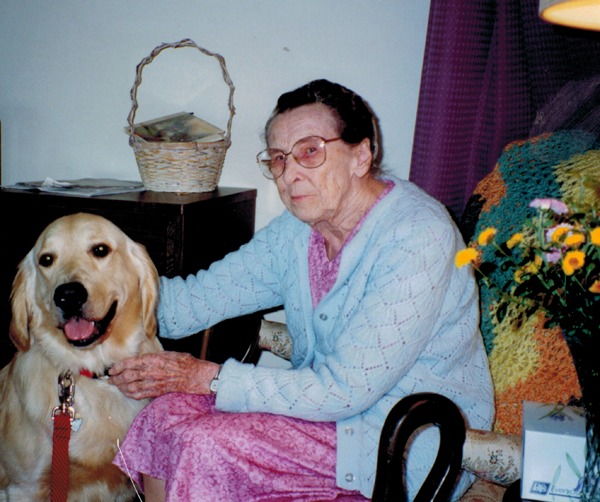 Calvin has a copy of the journal he brought back to share with the original group of founders. Calvin's view of stewardship is rooted in the origins of the family business, The High Companies. Founded by Sanford in 1931 during the onset of the Great Depression, it started as a welding business. "The blessing was that people couldn't afford new items," Calvin explains, "so my father and my uncle welded and repaired things, and the business grew a step at a time. No big plans — as they say, if there's an opportunity out there, you take it. They worked hard, and in the early years it was tough. My father rode a motorcycle to save gas, and one customer paid his bill in chickens."

From such humble beginnings grew a business that 85 years later employs about 2,000 people. "We're just caretakers of what the Lord has given us while we're here, aren't we?" Calvin asks rhetorically. Together he and Janet have strongly rooted this philosophy in their family. The family meets together regularly to share ideas regarding philanthropy and giving back to the community. Each year the entire family participates in service projects, like packing bags of food for needy people in the city and taking dinner and gifts to a family on Christmas Day.

Ideally for Janet, giving is a surprise. "I really enjoy giving when people don't expect it," she declares with a gleam in her eye. "It is very pleasurable. The Lord has blessed us, and daily we ask the Lord to show us how He wants us to use it. When He blesses us, we should share."
---
A Family's Trust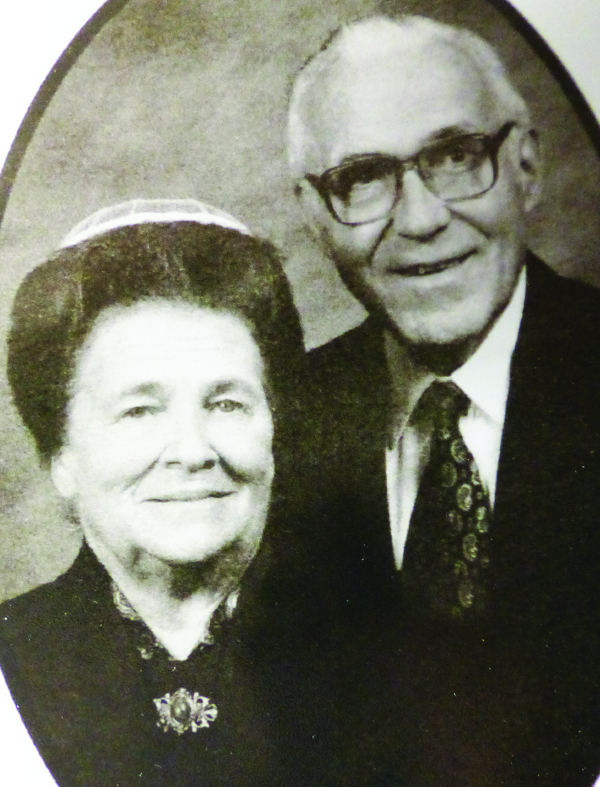 When Martha Jane Bomberger and her late husband, Roy, were choosing a retirement community in 2004, she had two primary criteria. First, she wanted to live on the ground floor so she could have a garden and bring the coleus plants and primroses that had moved with her to every house in their married life. Second, they required a quality healthcare facility to be accessible if one of them should need it. They knew Landis Homes was right for them when they saw their Harvest View apartment. (Martha Jane currently enjoys living in the Ephrata House in Healthcare.)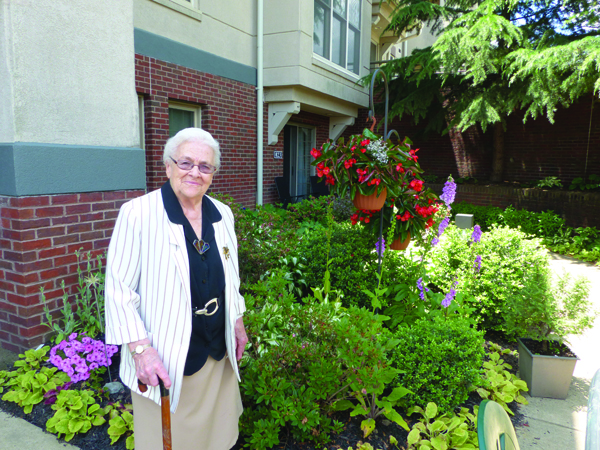 "We are thankful for the history of Landis Homes and for the caring people," said Martha Jane and Roy's daughter, Fannie Miller, "and we are totally indebted for the five years of care our father received here." Martha Jane and her six children are very close. Therefore, supporting a capital project for Landis Communities was a family decision. They met together to consider funding the opportunity through the family trust and to determine which designation would best honor their parents and represent them as a group. Martha Jane commented, "It is very important for us as residents to be able to bring family members to our home."
---
God's Training: Monthly Givers Share Their Early Experiences
Married for only three short years before the Vietnam War hit them like a violent storm, Irvin and Louise Martin knew their plans had to change. It was 1966, and they had just bought their first property together and had plans to renovate the house when Irvin was drafted.
"We couldn't go just anywhere, not with recently purchasing property. I knew we had to stay local. I heard about Williamsport Hospital and decided to interview there for my 1-W service*," Irvin shares. Driving due north from Lancaster, they found a mobile home, which a family member helped them buy, and made a temporary living space in Williamsport from 1966-1968. Growing up in Lancaster County, and in small communities, they were both fairly sheltered. It was their first exposure to the outside world.
Irvin interviewed at the hospital and got the job that same day. He began as an orderly in the medical division, mostly in the emergency room and on the floor. Sometimes, he would take bodies to the morgue. Louise began working in the financial department shortly after Irvin started. She had the tough job of asking families if they could afford to pay for their care. At the time, it was customary to go to their rooms while patients were still in the hospital and ask them if they could pay.
"With no experience, Louise and I were thrown into work at the hospital. Back then, they smoked inside and we had limited training. We were shy when we were younger, but we learned a lot about people and about how to help them," Irvin says.
"Sometimes it was hard. It was a new experience for me to see people in financial distress, but it helped prepare me for the future. It was the first time we met other Christians who weren't Mennonite. It broadened our horizons," Louise says.
After their 1-W service, Irvin and Louise moved back to Lancaster county and renovated their house like they originally planned. They adopted two boys, who now have families of their own. Irvin became a pastor, and then a bishop in the Mennonite church.
"Our unexpected service at Williamsport Hospital helped prepare us for what it took to be in the ministry. You never know how God will use you," Irvin says.
Irvin and Louise have lived at Landis Homes five years now. They enjoy the access to services, volunteering in the chapel, and the activities. With many family connections on campus, coming to Landis Homes was a natural move for them.
They continue serving others with their time and their monthly giving at Landis Homes, never forgetting the valuable gifts given to them along the way and the pivotal training God provided for them in each stage of life.
*1-W service refers to the service all conscientious objectors had to perform in lieu of service in the armed forces.
– Written by Melissa Kalicicki, Annual Gifts Officer
---
Your Gifts Made it Possible for Nevin to Enjoy Nature
A naturalist and published poet, Nevin learned that his nursing home was closing. He wasn't sure where he was going to live. Because of your gift to Welsh Mountain Home, he doesn't have to fear where he will live anymore. He now has an affordable place to live where he can cultivate his own wildflower garden and watch the birds outside his window every day.
Early in life, he developed a passion for the outdoors. He went on adventures, exploring the mountains in his Jeep, and took many photos which now decorate his room. His quiet demeanor makes the beautiful words of his poetry resonate even more.
Neven has lived most of his life in solitude, preferring that to being with people. However, he suffered from severe depression to the point where he needed to find help.
Thanks to you, Nevin has an affordable place at Welsh Mountain Home. His strong faith and access to counseling services have helped him become stronger and healthier. He attends church and interacts with others, especially at mealtimes.
"I bought some wildflowers and planted them in the garden here. I like watching the birds from my window. The other day, a huge flock of robins landed on the lawn, and I was so excited and surprised because they were early for the season," Nevin said.
Thank you for making it possible for Nevin to have an affordable home where he can enjoy the privacy of his own room and also experience the beauty of the outdoors that he loves so much.
– Written by Melissa Kalicicki, Annual Gifts Officer
---
A Conversation with Dan Houck
J. Daniel Houck, known as 'Dan,' grew up playing sports in Pottstown, PA. In later school years, he says he 'enjoyed writing so much that it led to his becoming a pastor.' He became a Pastor in the Brethren in Christ Church, wrote his own memoir, and was also a local sportswriter for the Merchandiser for several years. One of his passions was youth ministry. He was involved at Youth Quest for 25 years. His sense of humor and compassion for others walked hand in hand with his ministry. As a husband and father of four, Dan was used to leading an active, joyful lifestyle.
Unfortunately, changes in his health forced him to stop working. They had to downsize their home, and Dan became depressed.
"This place (Landis Adult Day Services) is fun. It's kinda been a real savior for me. I wasn't doing well before this. My wife would go to work and I'd stay home. I was getting depressed. After my daughter and wife talked to me about coming here, I finally decided to visit. One day here, and I knew this was the place I was supposed to be. I've made a lot of friends, and I try to be an encourager to others. I have bad eyesight now, so one of the things I appreciate most is when they read books to us in the morning. I miss being able to read, so simple things like that mean a lot to me. It's a safe place and now my wife doesn't worry about me wandering off somewhere or getting hurt."
With the ADS annual benefit golf event, you have the opportunity to participate as a golfer or a patron. Your generosity gives Dan a safe place to make friends, continue learning, and share his gifts and talents with others. While his needs are met at Landis ADS, his wife is able to continue working, so your participation not only benefits clients but it helps their loved ones as well. Learn more about the event at https://landisadultday.org/golf/.
For more information, contact Janice Nikoloff Advancement Events Specialist, at jnikoloff@landis.org or call 717-509-5490.
---
Why Michael & Lena Brown Support Affordable Housing for Aging Adults
Recently, I sat down with Michael and Lena Brown, two individuals who are passionate about helping others who cannot afford housing. With diverse experiences, Michael and Lena both shared a little about why they support Landis Communities' latest Affordable Housing initiative in Millersville, PA.
"I knew former school teachers, farmers, veterans… people who worked their whole lives, who fell onto hard times. They were only able to get care by going to an affordable housing community. I don't know where they would have gone if they hadn't had it," Michael says of his work at an affordable housing community in the past.
Lena used to help resettle refugees in Harrisburg in the 1970s and 80s. She would help them find affordable housing, jobs, and watch as they graduated to living on their own. She saw the positive side of what happens when help with housing is provided for those in need.
"I grew up on a farm where I always felt secure. We didn't have a lot, but we had enough. Two photos really stuck with me at a young age. One, was a person sleeping on the street in New York City, and the second, was people in California living under the bridges. I will never forget those photos," Lena said.
Because of their experiences, Michael and Lena have worked to help people who haven't had a place to go. They've hosted meals in their home, assisted with several charities in outreach work, and have given financially to support others.
"Housing makes a difference in whether a family can go on with their lives or not," Michael says.
If you have a personal story to share, please email the Advancement Team at advancement@landis.org or call 717-509-5409.
– Written by Melissa Kalicicki, Annual Gifts Officer